GROM Launches GROM-MST3P Adapter Kit, Developed for AUDI with MMI 2G Systems
16/10/2013
GROM Audio UK is proud to announce our new mobile electronics car integration kit, the GROM-MST3P-AUDO Adapter for select AUDI®. The MMI 2G supported car kit is designed to integrate with advanced Multimedia Oriented System Transport (M.O.S.T)® technology in Audi cars, offering integration solutions for Android® phone, iPod® and iPhone®, USB mass storage device, and car Bluetooth® hands free.
Based on the highly advanced M.O.S.T technology, the GROM-MST3P for Audi offers complete integration to factory car stereos through steering wheel button control, radio keypad control and Audi MMI 2G system. GROM's integration with the Audi MMI operating system will allow drivers to manage an array of systems including navigation, in-car music and hands-free-calling.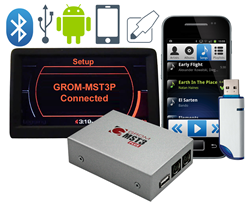 The GROM car kits integrate with more than 30 factory stereos and add Bluetooth streaming and in-car hands-free communication, Android phone integration, iPod/iPhone/iPod car connection, and USB ports. Upon installation, users have the ability to connect many mobile devices to their car stereo through the wires provided or wireless via Bluetooth. These easy-to-install car kits are designed to provide endless integration possibilities, the convenience of phone-to-car connection, and safety of car hands-free communication.
In addition, GROM-MST3 PLUS offers powerful memory and chip with the ability to support advanced audio formats including FLAC, MP3, WAV, AAC, OGG and others.
With the GROM-MST3P adapter drivers can utilize GROM's Bluetooth functions, which not only reduce noise and eliminate echo, but also produce high-quality sound for music streaming and phone calls. Additionally, GROM-MST3P allows the unique Android integration, giving AUDI drivers who are also Android phone users, the ability to connect and integrate their Smartphones to their car easily.
GROM continues to design and manufacture aftermarket car audio kits for different car makes and now with AUDI MMI 2G system integration, the company is predicting an even more positive response from drivers. "Drivers will enjoy seamless integration of their mobile electronics to Audi stereos," company spokesperson.
With the integration of GROM-MST3P, drivers will benefit from the safety of Bluetooth hands-free calling, the ability to charge, play and control their devices (both Apple and Android) through their steering wheel or stereo buttons. Most Android phones are compatible, including Samsung Galaxy, HTC, Google Nexus, and others.
GROM-MST3P kit supports Audi A4 2007-2009, Audi A6 2005-2008, Audi A8 2002-2008, Audi Q7 2006-2009, and Audi A5 2007-2008.
« Back