Lexus Toyota 2003-2005 GROM VLine Infotainment System Upgrade Video Interface
Description
Compatibility
Specs
Contents
reviews
Connected car experience without a brand new car! Integrate latest mobile technology to your factory stereo and access Google and Waze maps, Spotify, Web Radio and other music apps - directly from your factory touch screen. No need to replace the stereo.

What is VLine: VLine is the smart computer that connects to the back of your Lexus/Toyota stereo and integrates into the car infotainment system and touch screen display. VLine is superior alternative and easy upgrade for Lexus/Toyota OEM stereo.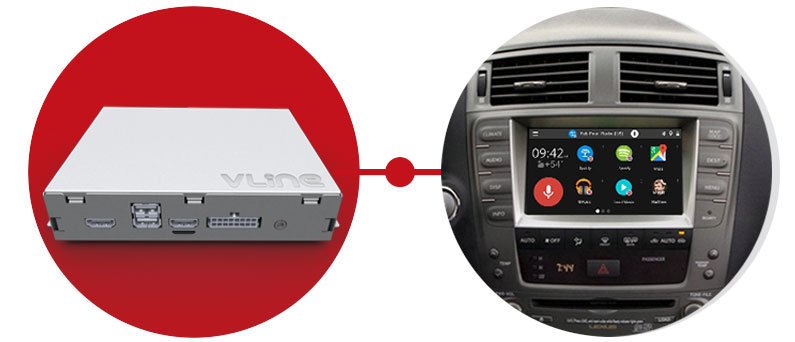 VLine fully integrates into your car stereo system. Once VLine is installed, you will use stereo touch screen to operate VLine. VLine is stand alone unit that does not require phone connectivity (except for mobile hot spot and Bluetooth A2DP streaming).

What you can do with VLine

Music Apps: Web Radio, Spotify, Google Music, Local (stored on the phone) music and others will be displayed on your car stereo screen. Use VLine plug-ins or open any app from Play Store.

Google and Waze maps: use Google and Waze maps for navigation and real time traffic updates, right from your car stereo navigation screen.

Voice Search: use voice control for navigation and music. No need to enter the address, you can simply tell your car where would you like to go.

Other apps: You can instal other apps available at Google Play. (*not all of them are optimized for driving)
Apple CarPlay: use your iPhone apps on the touchscreen display.

Sound Quality: High quality pure crystal-clear sound, using your factory car stereo system.

Firmware upgrades: Over the air via internet download, and via USB.

Potential for future upgrades include: OBDII information right from your stereo screen; rear parking cameras and front facing cameras.

Integration with your existing system is seamless. You will keep all factory controls and features. You will be able to access FM radio, CD changer, use factory Bluetooth and so on.
Lexus GS 300/430 2001-2005

(Navi)

Lexus LX 470 2001-2002

(Navi)

Lexus RX 300 2001-2003

(Navi)

Toyota Landcruiser 2001-2002
Toyota Prius 2001-2003
Please leave your car model / year / radio model on checkout, if not provided we will contact you before despatching.
Quad Core Cortex-A7 MCU 1.35GHz
1GB RAM, 16GB Flash
WiFi 2.4GHz, Bluetooth 2.1/4.0
MicroSD, HDMI/AV1/AV2 in for video and backup camera
USB2.0 x 2 ports
Operating Temperature: -40C - +85 C (-50F - 200 F)
Operating current: < 700mA
Standby current: ~5mA
SN Ratio: 95dB
DAC resolution: 24bit
Distortion: < 0.01%
Dimensions: W / H / D - 120* 160 * 33 mm
Weight: 400g
Enclosure: Silver metal
Standard package include everything you need for the installation:
- VLine infotainment system in metal enclosure
- Vehicle specific harness
- GPS receiver
- Microphone
- Automotive grade USB cable
- Operation manual